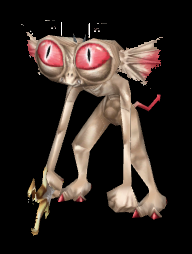 Basic Info
Edit
Imps are found in Forest of Tides and Sand Beach. They are level 4 and hit low melee damage. Imps have 67 HP and have an associated license.
License Info
Edit
This license has 3 tiers, and provides no critical bonus when completed.
Imp Killer: 3 kills
Imp Executioner: 6 kills
Imp Eliminator: 9 kills
Imps are fairly simple to kill, just use your skills and the fight will be short.
Monster Cards
Edit
The imp drops 2 different monster cards;
Imp: a C-Ranked card that gives no title.
"The Forest Spy": a C-Ranked card that gives no title.
"OK, OK...you're right...I'm too ugly to be a fairy."
Low quality dusts (spirit, gem, soul)
Low quality spirit's nectar
Low quality magic crystal
Unopened cards (yielding the above)
Tier 1 enchantment gems
Ad blocker interference detected!
Wikia is a free-to-use site that makes money from advertising. We have a modified experience for viewers using ad blockers

Wikia is not accessible if you've made further modifications. Remove the custom ad blocker rule(s) and the page will load as expected.